I got an email asking me to take a quiz to see how dumb I was. And I was dumb enough to actually take the quiz to find out. Where's the irony in THAT!

Nonetheless, the quiz consists of 25 questions and is pretty amusing. So how dumb are you?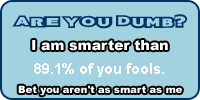 If you found this post interesting or helpful, you can get free updates via subscribing to the What Works For Us feed.